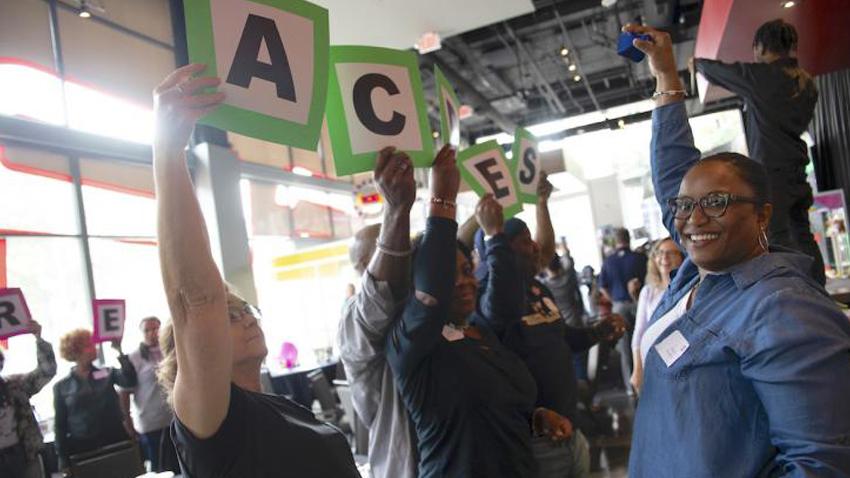 Dean's Award Winner is a Real 'Peoples' Person
The winner of the 2020 Dean's Award for the College of Computing is Tonya Peoples, director of Facilities and Planning. Peoples won the award for her work to reconfigure the college's physical plant during the past academic year.
Peoples oversaw the preparation of new space in Coda, as well as the re-fitting of old spaces to new purposes in the College of Computing Building and Klaus Advanced Computing Building. On top of that, her team ran a space swap, moving the first-floor inhabitants of CCB to the third floor and vice-versa. Her team has also been on the front line during our remote operations, keeping packages flowing every day from 10 a.m. to 2 p.m.
"The Dean's Award is for a singular contribution to the college," said Dean Charles Isbell. "Without a doubt, Tonya made such a singular contribution last year. Although she is always amazing, last year she not only managed to deal seamlessly with the logistical nightmare of multiple campus moves, she also managed the cultural challenges of moving people to new and unfamiliar spaces. She is a consummate professional, and the epitome of our community spirit."
Alan Katz, the assistant dean for finance and operations, also praised Peoples.
"Since becoming our first Director of Facilities and Capital Planning in 2015, Tonya has consistently exceeded expectations in building a highly functioning team with a strong focus on planning and customer service," he said. "I could not be prouder."
The Dean's Award, part of the college's annual awards, is given annually to the person (or persons) in the college who, in the Dean's opinion, represents the best of the college, and has an outstanding dedication to the college. The award winner is selected by the Dean.