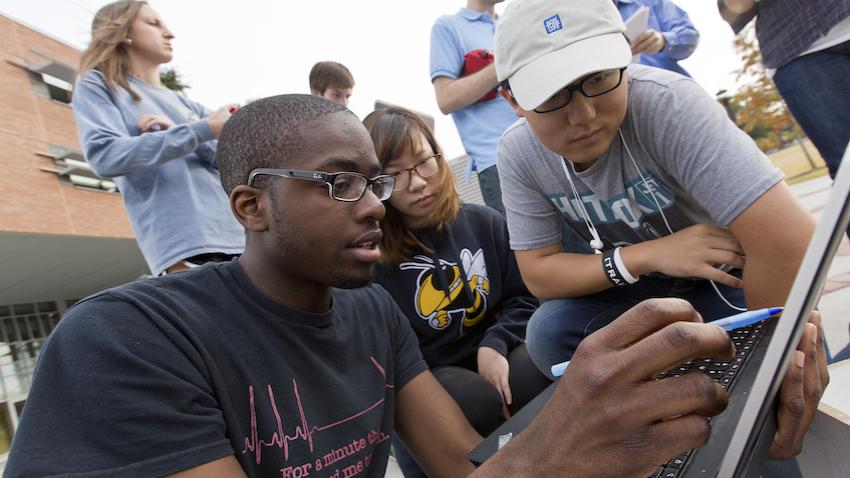 Georgia Tech Rises in National Rankings for Undergraduate AI and Cybersecurity
Computer science (CS) is booming at Georgia Tech. Undergraduate CS enrollment has more than doubled since 2017, and CS is now the No. 1 major on campus.
Adding to this boom, Georgia Tech is again ranking nationally as a top-10 destination for undergraduate CS and CS-related programs.
According to the U.S. News 2024 Best Colleges rankings, Georgia Tech is No. 6 in the country for undergraduate CS education. Georgia Tech has ranked in the top 10 since U.S. News and World Report began ranking undergraduate CS programs in 2021.
Image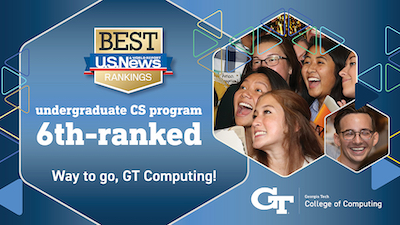 "We are incredibly proud to rank in the top 10 for undergraduate computer science for a fourth consecutive year. It's especially gratifying to achieve this milestone during unprecedented enrollment growth," said Alex Orso, interim dean of Georgia Tech's College of Computing.
Georgia Tech is tied for No. 6 in the 2024 rankings, released Sept. 18, with the California Institute of Technology, Cornell University, and Princeton University. The rankings also placed Georgia Tech in the top 10 for CS-related specialty fields, including cybersecurity, artificial intelligence, and software engineering.
The Institute climbed up two places to No. 2 for undergraduate cybersecurity studies. AI ranked No. 5 nationally, up one spot from last year. Software engineering also rose in the 2024 rankings, from No. 5 to No. 3.
"These rankings are significant and reflect the strength of our Threads program, which lets undergraduate CS majors tailor their degrees to prepare them for successful careers in these burgeoning fields," said Orso.
Georgia Tech's other CS-related specialties making the 2024 US News Best Colleges rankings include:
Computer systems: No. 6

Data analytics/science: No. 6

Game/simulation development: No. 4

Mobile applications/web: No. 7

Programming Languages: No. 14

Theory: No. 11
To meet the growing enrollment needs, the College of Computing, home to Georgia Tech's undergraduate CS program, has grown its faculty ranks in the past few years. The College hired 25 percent of Georgia Tech's new faculty in fiscal year 2022.
[RELATED: Georgia Tech Soars in 2023-2024 U.S. News & World Report Best Colleges Rankings]
It also created a new, first-of-its-kind school dedicated to undergraduate computing education.
The College established the School of Computing Instruction (SCI) in 2022. SCI's faculty includes more than 20 full-time and five part-time lecturers. Because CS is the largest major, and because of CS-course requirements for all students, SCI instructors teach more students from across campus every year than any other academic unit.
"As we experience record enrollment growth, our commitment to providing the best possible education for our students remains steadfast," said Orso.
"Our investment in expanding infrastructure, hiring additional faculty and staff, and enhancing student services reflects our unwavering commitment to ensuring that every student continues to have access to the high-quality education, tools, and support they need to thrive and succeed."
Georgia Tech's graduate CS program ranks No. 8 overall for in the 2023-24 U.S. News & World Report's Best Graduate Schools rankings released earlier this year.