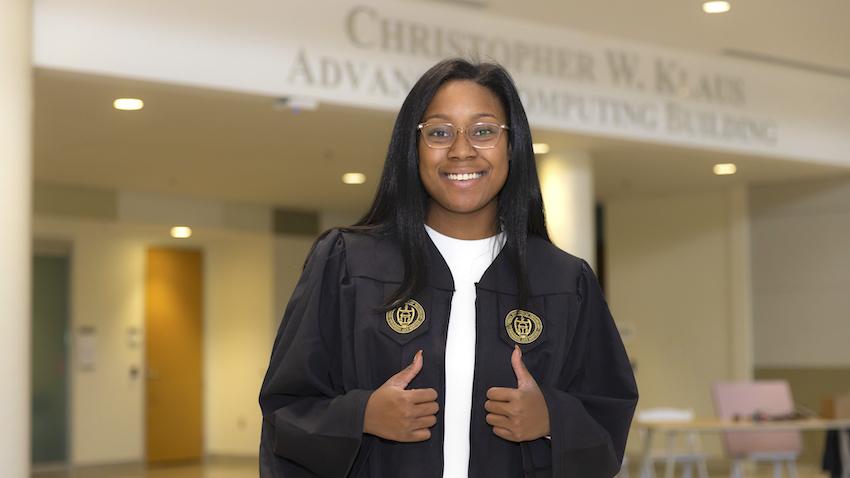 New Alumna Ready for Cybersecurity Fray, Encourages Girls Interested in CS
Cybersecurity and privacy threats are on the rise. So is the cost for U.S. companies falling prey to online criminals. In 2002, the average cost of a data breach in the U.S. is $9.4 million. This is up by 13% from 2020, according an annual report from IBM.
There is a bright spot for business, however. The report reveals that the average cost of a data breach is reduced by a third for companies using artificial intelligence (AI) and automation strategies to protect their data systems. This means companies are scrambling to hire people with specialized skills that can develop and maintain complex systems to counter threats that constantly mutate to find new attack vectors.
Well-poised to take advantage of the skyrocketing workforce demand is Antonia Nunley, who graduates this week from Georgia Tech with a Bachelor of Science in Computer Science (CS) degree.
Nunley focused her studies on systems architecture and enterprise data management. She has interned twice with Salesforce as part of a threat detection team. And she is set to intern again with the company in 2023.
"My passion is security. Next summer, I will be working in offensive security. My goal for the internship is a full-time offer so I can return in January 2024 to work in San Francisco for Salesforce," says Nunley, who was a member of GreyHat, Georgia Tech's cybersecurity club.
Based on what she's experienced with her internships and her coursework at Georgia Tech, Nunley thinks one of the big cybersecurity stories in 2023 could be a breakthrough in automated incident protection and response for large data enterprises.
"The goal is to develop AI models that can make scripts with a language that will effectively describe what a vulnerability or incident would look like. Pair this with the AI capabilities to respond to and fix incidents in enterprise software, and companies will be able to react almost instantly to any security breaches," says Nunley, a 2019 graduate of Brookstone School in Columbus, Georgia.
Nunley says her interest in cybersecurity and CS started at an early age. Her mother also majored in computer science. Although she worked as a nurse, she was always working on computing projects at home.
"I grew up around computers and knew this was exactly what I wanted to do. I was the president of the Girls Who Code Club, and I took every computer science course offered in high school," says Nunley.
She confirmed her decision to study CS in college during her junior year in high school. "I went to a two-week cybersecurity camp at Embry Riddle University. I wanted to see all that computer science had to offer outside of software engineering, and I absolutely loved it. After this experience, I toured Georgia Tech and fell in love with it."
Although she had a passion for CS, Nunley wasn't sure when she first came to Georgia Tech if she would make any female friends also majoring in CS. Much to her surprise, however, Nunley began to realize that there were more women interested in the field than she had initially thought.
"You can't let the stereotypes scare you; there are a lot more women in the field than you think," says Nunley, who worked as a teaching assistant for five semesters supporting for the School of Computing Instruction's Data Structures & Algorithms I (CS 1332) course.
"I was worried that I wouldn't be able to make any close female friends in the major because of how male dominated it seems on the outside. But, for young women thinking about majoring in computer science, I can say that you will not be alone. We stick together and help each other."