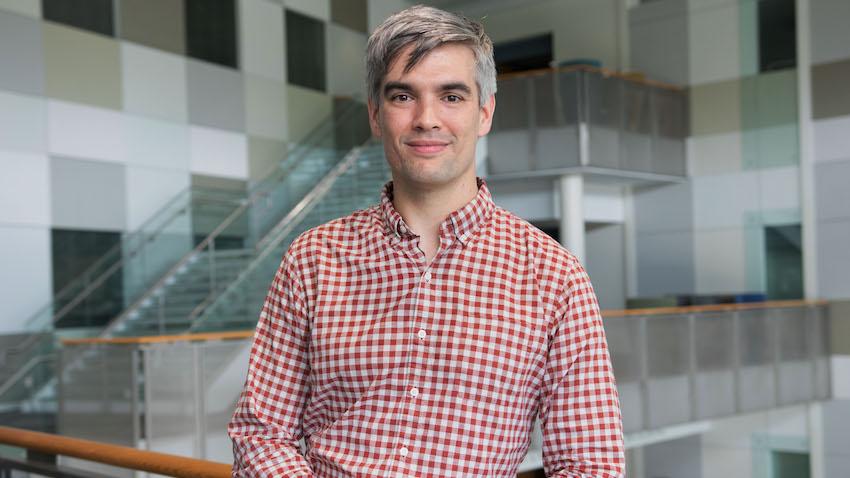 New Faculty Q&A: Christopher MacLellan
Christopher MacLellan explores how artificial intelligence (AI) can benefit human performance and learning in the classroom, team-oriented environments, and people's daily lives.
MacLellan arrived this fall at the School of Interactive Computing as an assistant professor. In his new role, he will research and teach in the areas of cognitive systems, AI, human-computer interaction, and educational technology. This fall, he is teaching a knowledge-based AI course.
MacLellan worked for two years at Drexel University before coming to Georgia Tech. Before joining the faculty at Drexel, MacLellan spent three years working as a research scientist at Soar Technology Inc., where he developed novel AI and machine learning technologies to support users in making better decisions and learning more effectively.
MacLellan received his Ph.D. and master's degree from the Human-Computer Interaction Institute at Carnegie Mellon University. He also spent two years as a graduate student in computer science (CS) at Arizona State University and received his bachelor's in CS from the University of Wyoming.
What interests you about working at Georgia Tech?
I think that Georgia Tech is at the center of a lot of the AI research that is going on in the country right now. Tech stands out as one of the few universities that has multiple National Science Foundation funded institutes that focus specifically on AI. There is also a strong human-centric component to the AI research that is being done here, which is key in my work. I learned a long time ago that if you want to make rapid progress in an area, you go to the center of where that kind of work is being done.
What will your research at Georgia Tech consist of?
My work focuses on trying to better understand how people teach and learn and then building computational systems that can teach and learn like they do. In a virtuous cycle, I aim to better understand the unique capabilities that humans exhibit, build AI systems that can exhibit these capabilities, and use these systems to improve the human condition and, in turn, to further improve our understanding of humans.
What inspired you to pursue this field of research?
I have always been fascinated by people's ability to reason and learn. We can do amazing things. I cannot just take your mind apart to understand how it works. However, I can build computer models that exhibit similar behaviors as you, and we can run experiments with these models to gain insights into the mechanisms underlying your abilities. Unlocking uniquely human capabilities has the potential to revolutionize how people make use of AI technologies in their everyday lives.
 What do you hope to accomplish in your research?
Ultimately, I aim to enable people who do not know anything about AI to be able to adapt these systems to their unique needs by teaching them new behaviors like how they would teach another human, through natural teaching interactions. This work should empower people to more effectively use AI technologies to improve their lives. I am particularly passionate about applying this concept to support teachers in creating and using AI-powered educational technologies to improve learning outcomes for students.
What are you looking forward to about teaching your students, and how do you plan on working with them?
This fall, I'll be teaching knowledge-based AI. I am a strong believer that students should be taught about a broad range of AI paradigms and approaches. In this class, I am very excited to explore how knowledge, in addition to data, can be leveraged within AI systems. Additionally, I am very excited to explore how different AI algorithms and methods can be composed to create systems that can exhibit intelligent behavior. I look forward to charging a new generation of AI researchers with these ideas.