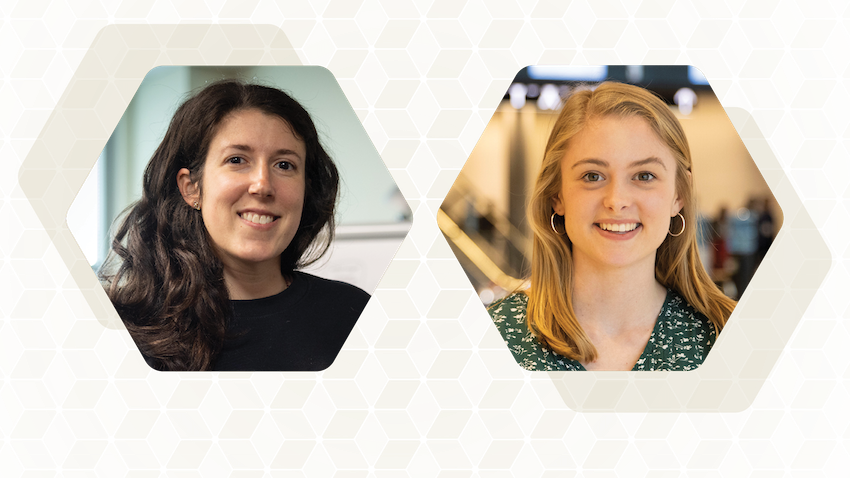 Ph.D. Students Earn NSF Graduate Fellowships Through Responsible Computing
Two School of Interactive Computing Ph.D. students recently received a significant boost for their respective research thanks to the National Science Foundation (NSF).
Ashley Boone and Lara Schenck have been accepted into the NSF Graduate Research Fellowship Program. They are both pursuing a Ph.D. in human-centered computing
The highly competitive NSF program supports graduate students working toward graduate degrees in science, technology, engineering, math, or STEM education. The NSF estimates it annually awards fellowships to 2,750 applicants from a pool of more than 12,000 applications.
The fellowship period is five years, with three of those years funded through a $37,000 stipend and a $12,000 cost-of-education allowance.
"Part of the reason I applied was to get practice for writing grants, writing applications and talking about my research," said Boone, who is advised by Interactive Computing Associate Professor Christopher Le Dantec. "I was surprised. It made me feel validated about the work I was doing."
Boone said her research centers on critical data studies, data systems for care and ethics, and community-led data collection as a tool for civic engagement.
"Those are ideas I want to carry forward into my future work," she said.
Boone described critical data studies as looking at different ways in which data is produced and how it fits within social and cultural structures.
Sharing her work on data care systems, Boone gave a paper presentation in April at the 2023 Conference on Human Factors in Computing Systems (CHI) in Hamburg, Germany. Her presented work explored how a food assistance organization in Atlanta embodies an ethic of care through its data practices.
Her third area of interest is one she's planning to explore with the help of her fellowship funds. Boone sees community-led data collection as a form of "citizen science." She uses term to describe efforts to encourage members of the public to participate in scientific data collection.
"I'm interested in taking what we already know about citizen science and applying it to this space of data activism," Boone said. "That could mean using data collected by community members to advocate for new policies or raise awareness about issues. I think that's a powerful tool for civic engagement."
Like her fellow NSF Graduate Research Fellowship recipient, Lara Schenck is also dedicated to improving people's lives through computing.
Schenck is highly involved with Georgia Tech DataWorks, an organization co-directed by Betsy DiSalvo, who is also Schenck's advisor. DataWorks was created to open pathways for people from underrepresented minority communities to pursue careers in computing by hiring them as data fellows. In addition to working on client projects, DataWorks fellows receive six months of part-time training in Excel, Python, and critical data literacy.
"I think a lot about how to keep building DataWorks," Schenck said. "It's an amazing relationship between the Institute and local communities that's benefitting those local communities. I look at this as a prototype for how to build a resilient community around learning computer science and preparing people for careers through that."
Schenck also collaborates with an organization called Supreme Network Global in her hometown of Pittsburgh, Pennsylvania, where she works to create easier pathways for formerly incarcerated individuals to find jobs in computing.
"There's a need for employment pathways for people when they're out of prison," she said. "You can teach anyone to code, but that doesn't mean they're going to get a job in computing because there is a deeply engrained gatekeeping culture within computing."
Having a background in art, Schenck said she encountered many gatekeeping barriers when she worked as a software programmer for 10 years. Receiving the NSF fellowship reassured her that she made the right decision to pursue her Ph.D., and she hopes her research can help build a more inclusive computing environment.
"Having the award enables me to make sure I fulfill my reasons for being here — with a lot more freedom," she said.