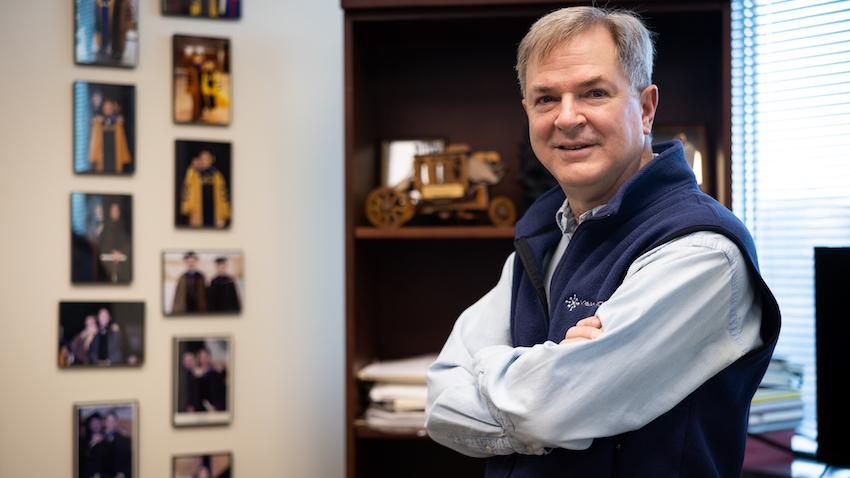 Regents' Professor Named ACM Fellow
The Association for Computing Machinery has named School of Interactive Computing Regents' Professor John Stasko as one of its 57 new ACM Fellows.
The ACM Fellows program recognizes the top 1 percent of ACM members for their contributions in the fields of cybersecurity, human-computer interaction, and mobile computing, among others. It also highlights a career of outstanding accomplishments and service to these fields. All ACM fellows must be nominated by other fellows and be reviewed by a distinguished committee of their peers to receive the accolade.
Since 1989, Stasko has made significant advancements in the fields of data and information visualization and human-computer interaction.
"I've done work spanning a spectrum from creating new techniques, building systems, evaluating techniques in systems, but also some fundamental and theoretical conceptual work," Stasko said.
Stasko pioneered SunBurst, a groundbreaking technique that introduced ways to present hierarchal information structures, allowing people to understand and access the data within them. He also garnered universal acclaim for his 2007 paper on the role of interaction in visualization, which has more than 1,100 citations in Google Scholar. His work on the Jigsaw project for visualizing large document collections earned him the Visualization Technical Achievement Award in 2012.
The ACM Fellows program was initiated in 1993, four years after Stasko joined the College of Computing. He was nominated by IC Professor and Fleming Chair Emeritus James Foley, who is also an ACM Fellow.
"Jim has been an amazing mentor for all my career, so I really appreciated that," Stasko said. "He'd been pushing me for many years to be nominated. I am greatly appreciative of all my Ph.D. students over the years as well. They are a big part of this honor."
Stasko is in a more exclusive club of honors because he now holds fellowships from both the ACM and the Institute of Electrical and Electronic Engineers. He was named an IEEE Fellow in 2014.
"For computer scientists, there's two primary parent academic organizations that host the vast majority of our conferences and journals," he said. "One is ACM, and the other is IEEE. It just depends on what your areas of research are if you end up doing a little more of one over the other. My research has really crossed into the conferences and journals of both of those areas, so that's a nice honor to have both recognized."
According to a press release, the ACM recognized Stasko for his contributions to the design, analysis, usage, and evaluation of software and information visualization.
Stasko was also inducted into the ACM CHI Academy in 2016 and the IEEE VIS Academy in 2019. Over his career, he's had about 18 papers accepted into the annual ACM CHI conference and 30 accepted into IEEE VIS. In 2013, he served as General Chair of the IEEE-VIS conference when it was hosted in Atlanta.
Stasko received his B.S. degree in Mathematics from Bucknell University in 1983 and holds master's and doctorate degrees from Brown University.