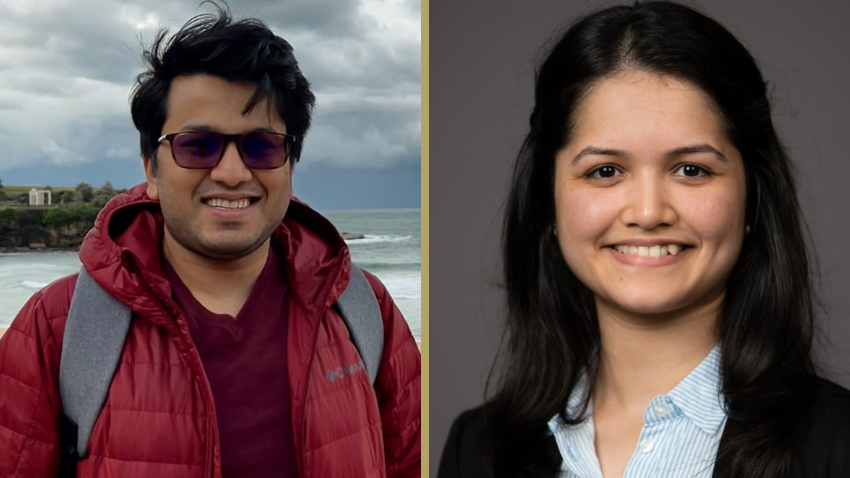 Students Recognized as the Next Generation of Cybersecurity Professionals
Two graduate students from Georgia Tech have been selected by faculty to represent the Institute at the RSA Conference (RSAC) in San Francisco as part of the Security Scholar program at the end of this month.
Dhruv Kuchhal, a Ph.D. student in computer science, and Avani Modak, a Master of Science in Cybersecurity (MS Cybersecurity) student, will join around 50 cybersecurity students from over 40 colleges, universities, and institutions worldwide for a week of networking and learning from leading cybersecurity professionals. 
RSAC focuses exclusively on industry jobs and partnerships, making it appealing to Georgia Tech students interested in corporate work. Both Kuchhal and Modak are finishing their degrees this year and hope to make lasting connections while attending the event that will aid in their job search. 
Through the Security Scholars program, Kuchhal and Modak will have access to a wide range of perks that include team-building exercises, networking with more than 300 companies at the conference expo, attending an invitation-only dinner with cybersecurity experts, and more.  
Kuchhal says he is looking forward to learning what research looks like in a business environment. His work in exposing cracks in web security has given him a unique academic perspective. He hopes to use the tools at RSAC to learn more about how these issues affect the industry.  
"I think that is why the conference will be such a good fit for me," he said. "I want to see what the industry cares about and their approach to a problem. I am excited to meet people and learn what is important to them."
Modak is attending RSAC for the second time, but this will be her first stint as a Security Scholar. 
Her first experience at the conference was when worked for VMware, attending on her own for professional development. It was through her job at the cloud computing company that she realized the importance of cybersecurity. Inspired her to seek out graduate programs in the field, she made her way to the School of Cybersecurity and Privacy (SCP). 
"The RSA Conference is where the world of cybersecurity gets together," she said. "After I posted to my LinkedIn that I was going, I had several connections reach out to tell me they would be there, too. It is really cool to see how close this community is." 
Modak was nominated for the Security Scholars program by Professor Peter Swire, J.Z. Liang Chair in SCP. Even though she is in the information security track of her master's program, Modak has been working with Swire, who is an expert in cybersecurity policy, to study how the physical location of data can influence policy and restrict cybersecurity defense efforts. 
"Avani took ownership of key parts of the project, and made a real impact," said Swire. "Due to her outstanding and creative work, she soon became a co-author on our paper."
 
Master's students at Georgia Tech take classes in three cybersecurity disciplines during the program. While familiar with the good reputation around the Institute's computing courses, Modak wasn't sure what to expect when she took Swire's Privacy, Technology, Policy, and Law (PUBP 6726) in Fall 2021. 
"The class was something new and something interesting. I think it is a topic software developers need to understand and be more aware of," she said. "It was so cool to see someone like Professor Swire, who is so active in shaping global cyber policy, take the time to teach me and let me pick his brain." 
The second nominating faculty is Assistant Professor Frank Li, who is Kuchhal's advisor.
Li has worked with Kuchhal on several research projects spanning web security, abuse, and privacy. A key project was a study of FIDO2, the technology that allows websites to replace login passwords, view fraud on YouTube, and local network communications by websites.
"I nominated Dhruv because he's done cool research looking at real world web security and privacy," said Li. "Since he is interested in an industry career, participating with the Security Scholar program will help him connect with industry experts." 
Kuchhal has followed Li's work even before he came to Georgia Tech. The Ph.D. student said his research interests aligned with the SCP assistant professor and Li was his first choice for an advisor.  
"There were other faculty I spoke with, but Dr. Li was the person I wanted to work with," said Kuchhal. "I wouldn't have had it any other way."