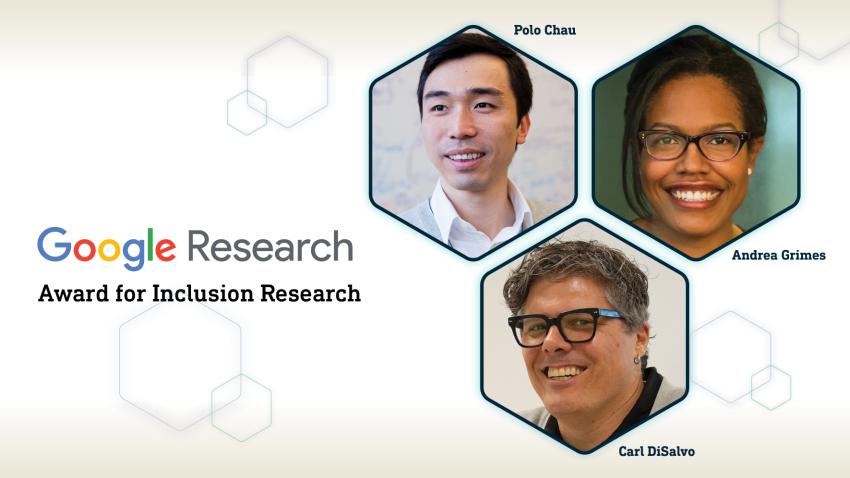 Three Computing Faculty Receive Google Awards for Inclusion Research
With inclusion at the center of their research, three College of Computing faculty members earned one of the top honors Google awards for academic researchers.
Professor Carl DiSalvo and Associate Professor Andrea Parker from the School of Interactive Computing and Associate Professor Polo Chau from the School of Computational Science and Engineering made the list of recipients for the 2023 Google Award for Inclusion Research (AIR).
Google AIR recognizes significant contributions in computing and technology that address the needs of historically marginalized groups. For 2023, Google sought to identify research that focused on accessibility, collaboration, collective- and society-centered AI, and the impact of AI on education. The award includes a $60,000 grant for each recipient.
Working alongside Ph.D. student Vanessa Oguamanam, Parker seeks to develop a mobile app that helps perinatal black women handle stress management. The award will help fund a mixed-method study to evaluate the app's efficacy.
"This award will enable me to establish new collaborations with two community partners doing vital work to address maternal health inequities within Georgia," Parker said. "Culturally relevant mental health resources are sorely lacking yet vitally needed to support a population that has disproportionately experienced social and structural stressors and mental health conditions."
Working with Ph.D. candidate Sara Espinosa-Milkes, DiSalvo collaborates with online resellers in co-designing speculative and applied tools and practices to enable better navigation of the algorithmic ecosystems of online second-hand economies.
DiSalvo said sites such as PoshMark, Depop, and ThredUp require resellers to navigate multiple platforms, applications, and algorithms. Their research helps resellers make sense of these technologies and construct tactics to move between these platforms.  
"The Google AIR gift is an amazing contribution and opportunity," DiSalvo said. "It provides a pathway for collaborating with colleagues at Google and much-needed support for the critical and experimental work we are trying to accomplish. It enables us to share work with researchers at Google that is participatory, critical, and grounded in humanities theories and arts methods." 
Chau received the Google AIR award for his work in AI and education, that led to the creation of a unique tool called VisGrader.
VisGrader helps instructors and students alike by automatically grading JavaScript data visualizations. The tool enhances student learning by providing immediate feedback on their designs, allowing them to improve their work iteratively.  
Ph.D. student Matthew Hull leads the project comprised of current and former teaching staff members of Georgia Tech's Data and Visual Analytics course. So far, VisGrader has auto-graded over 72,000 submissions from 4,000 students spanning four semesters since 2021. 
"I am very grateful for Google's recognition of the breakthrough research innovations at Georgia Tech and Georgia Tech's ongoing vision and efforts to broaden education access to learners around the world," Chau said. 
"Next, we are exploring how we can extend the approach to data visualizations created in other languages and platforms and how generative AI may help provide even more informative feedback to our students."
School of Interactive Computing Communications Officer Nathan Deen and School of Computational Science and Engineering Communications Officer Bryant Wine contributed to this story. Contact Nathan Deen at ndeen6@gatech.edu. Contact Bryant Wine at bwine3@gatech.edu.