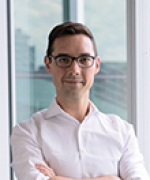 Biography
Brendan Saltaformaggio, Ph.D., is an associate professor in the School of Electrical and Computer Engineering at the Georgia Institute of Technology, with a courtesy appointment to the School of Cybersecurity and Privacy. His research interests lie in computer systems security, cyber forensics, and the vetting of untrusted software.
Saltaformaggio serves as the director of the Cyber Forensics Innovation (CyFI) Laboratory. The CyFI Lab's mission is to further the investigation of advanced cyber crimes and the analysis and prevention of next-generation malware attacks, particularly in mobile and IoT environments. This research has led to numerous publications at top cyber security venues, including a Best Paper Award from the ACM Conference on Computer and Communications Security (CCS'15) and a Best Student Paper Award from the 2014 USENIX Security Symposium.
Originally from New Orleans, Saltaformaggio earned his B.S. with Honors in Computer Science from the University of New Orleans in 2012. He received his M.S. and Ph.D. in Computer Science at Purdue University in 2014 and 2016, respectively, during which Saltaformaggio was honored with the 2017 ACM SIGSAC Doctoral Dissertation Award as well as two fellowships: the 2016 Symantec Research Labs Graduate Fellowship and the inaugural Emil Stefanov Memorial Fellowship in Computer Science.