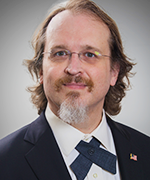 Executive Director of OMSCS, Senior Academic Professional, Associate Dean for Academic Affairs
Biography
David White leads the Office of Academic Administration, which provides academic advising for the BS and MS degrees in Computer Science. Mr. White coordinates the schedule of classes with the College's three Schools and the Division of Computing Instruction, and works with the College's Technology Services Organization to provide student information systems. He also frequently represents the College on academic initiatives, including the Institute's steering committee for Complete College Georgia.
As Executive Director of the Online MS in Computer Science, Mr. White works closely with the faculty, many Georgia Tech administrative departments, and Udacity to ensure the goals and responsibilities of the program are met.
Mr. White came to Georgia Tech in 2001 as a student in the MS program in Human-Computer Interaction. He began working full time for the College of Computing in 2004 as academic advisor for the MS in Human-Computer Interaction and the BS in Computational Media. Since that time he has also served as Academic Programs Coordinator for the School of Interactive Computing and Director of Graduate Programs for the College.
Mr. White has a BA in English from The University of Tennessee at Knoxville and the MS in Human-Computer Interaction from Georgia Tech.