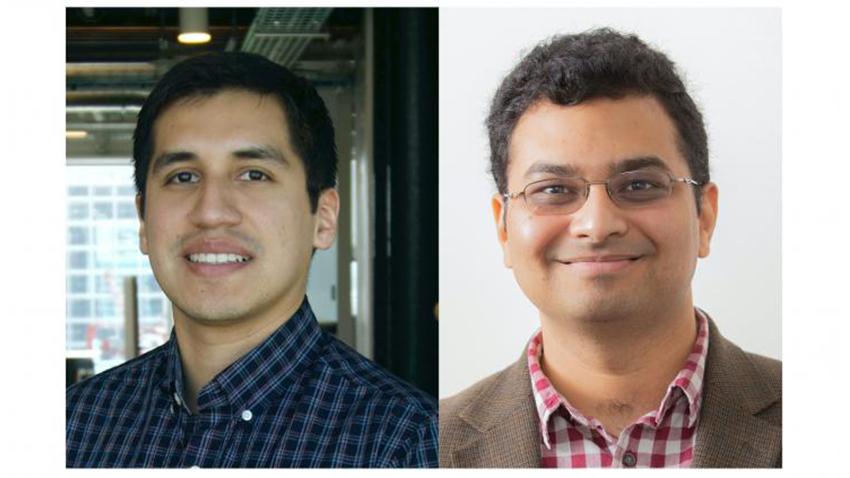 Research Team Wins Two Covid-19 Challenges in One Week Configure
School of Computational Science and Engineering (CSE) Ph.D. student Alexander Rodriguez and Associate Professor B. Aditya Prakash are enabling new data-driven solutions for pandemic response. Their research, which focuses on influenza-like illnesses (ILI) and Covid-19, garnered global attention by securing two awards for Covid-19-related challenges within the same week in mid-December. 
Rodriguez and Prakash joined CSE a little over one year ago while working on data science and artificial intelligence research with epidemiological applications, including the development of historical models for influenza forecasting. Shortly after their move to Georgia Tech, the Covid-19 outbreak began. 
For nearly a year since Prakash's group has led the charge on numerous Covid-19 research endeavors. 
Of these endeavors, their work with the Centers for Disease Control and Prevention (CDC) using deep learning models to forecast Covid-19 spread, such as hospitalizations and mortalities, may be one of the most prominent efforts. These models' predictions are currently being used by public officials and healthcare providers across the country to help track and combat the novel coronavirus.
[Related News: Team Using Deep Learning to Forecast Pandemic in the U.S.]
[Related News: Scientists Collaborating on New Data-Driven Approach to Covid-19 Intervention]
Now, the team is expanding their work with the CDC to apply their research to broader challenges including the C3.ai Covid-19 Grand Challenge and the Facebook Covid-19 Symptom Data Challenge.
Both challenges asked teams to create innovative approaches for enabling new solutions to pandemic response using proprietary data sets. 
"We have been exploring data-driven methods for public health broadly, including for disease forecasting. Given that both of these competitions focused on leveraging novel data sources, it seemed like a very good fit for what we were working on," said Prakash.
"But we wanted to take it one step further because we also wanted to bring our flu-forecasting experience into this."
According to Prakash, the team has gained a wealth of knowledge and experience from working on these real-time data competitions.
He said, "It's one thing to write a nice academic research paper about a clean problem – but in a real-time pandemic-emerging scenario where you don't know what is going to happen when there is so much uncertainty, there is so much more to navigate. And fundamentally, we felt we were well-placed to tackle these challenges."
Preparing Hospitals for Covid-19 and Flu Season
The C3.ai global competition encouraged research teams to use the C3.ai data lake to drive fundamental change in building state-of-the-art data science methods to enhance Covid-19 response.
According to Prakash and Rodriguez, ILIs and Covid-19 exhibit symptomatic similarities which affect one another's level of reported cases and therefore need to be taken into consideration when addressing disease spread. Given this consideration, they saw the C3.ai challenge as an opportunity to expand on their ILI and Covid-19 research with the new data provided.
Their proposed framework, DeepOutbreak, secured second place out of 777 participants by presenting a framework to better inform response strategies using datasets provided by C3.ai. It accomplishes this by modeling the progression of Covid-19 and symptomatically similar co-evolving ILIs to support optimal deployment of healthcare resources.
"Machine learning techniques allow us to directly ingest data signals that may be better representing what is happening on the ground. Our framework is useful in forecasting the spread of both Covid-19 and influenza in the chaotic circumstances we are facing. We found our predictions complement other, more traditional, approaches for epidemic forecasting," said Rodriguez.
The DeepOutbreak framework was developed with Bijaya Adhikari from the University of Iowa, and Anika Tabassum, Nikhil Muralidhar, and Naren Ramakrishnan from Virginia Tech. This very same team continued on from the C3.ai challenge to take first place out of 55 organizations for the Facebook Covid-19 Symptom Data Challenge that same week.
Predicting Covid-19 Trends Using Facebook Data
Similar to the C3.ai competition, the Facebook challenge asked teams from across the world to develop a novel analytic approach to enable earlier detection and improved situational awareness of the Covid-19 outbreak using Facebook Covid-19 data. 
The Facebook Covid-19 data was gathered by administering a survey on the social media platform which asked respondents about symptoms.
"As it is well known, Covid-19 and the flu share similar symptoms, like a cough or a fever. So, we wanted to understand if their symptomatic data helps us to differentiate between these diseases because they can interact, have similar symptoms, and can contaminate each other's surveillance systems," said Prakash.
The DeepOutbreak team secured a first-place victory in the challenge by characterizing different facets of the utility of the symptom survey data from Facebook. They found the novel data could help in predictive accuracy and also to anticipate changes in trends in the epidemic curves of both Covid-19 and ILIs. 
As the winner, the team's analytic design will be featured on the Facebook Data for Good website and partner forums, including blogs and community websites.
"Our data collection pulls from Google, CDC, and other institutions. Complementing these data sets with the Facebook data helped us find these trends," said Rodriguez.
According to Rodriguez, the Facebook data helped fill the gap in symptomatic data by it being readily accessible to people who are experiencing symptoms but not going to healthcare providers or taking Covid-19 tests.