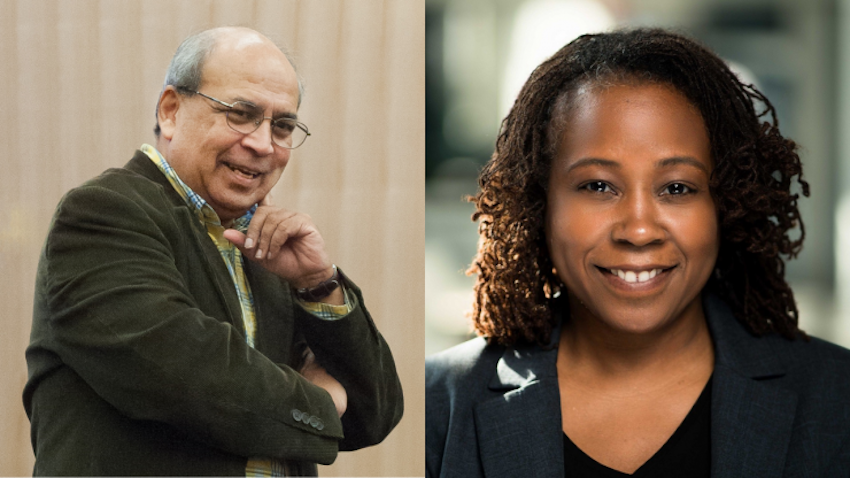 IC Professors Howard, Goel Named 2021 AAAI Fellows
School of Interactive Computing Chair Ayanna Howard and Professor Ashok Goel were both named 2021 Fellows by the Association for the Advancement of Artificial Intelligence (AAAI).
The AAAI Fellows program recognizes individuals who have made significant, sustained contributions – usually over at least a 10-year period – to the field of artificial intelligence (AI).
Goel's research, which spans about 35 years, has connected fields of AI, cognitive science, and human cognition. Increasingly, it has merged the fields of AI and education, culminating in his lab's groundbreaking work on Jill Watson, a virtual teaching assistant that can answer student questions in discussion forums for online classes. This trailblazing work has been recognized by numerous media outlets across the globe and has enormous long-term implications for the future of education.
"This is an exciting time for AI research into cognitive systems," Goel said. "In one direction, my research uses the needs of human learning to ground and inspire novel AI techniques and tools. In the other, it uses AI theories and methods to provide new insights into human cognition and behavior."
The team responsible for the advancement of Jill Watson and additional AI techniques for education, called emPrize, advanced to the semifinals of the international XPrize AI competition in 2020.
Howard, who was recently named the next Dean of Engineering at The Ohio State University, has performed similarly impactful research over her time in the field. As the director of the Human-Automation Systems Lab (HumAnS) at Georgia Tech, she has led research in conceptualizing humanized intelligence, the process of embedding human cognitive capability into the control path of autonomous systems.
Specifically, the lab studies how human-inspired techniques, such as soft computing methodologies, sensing, and learning can be used to enhance the autonomous capabilities of intelligent systems. This has impact in both virtual AI and robotics, and has led to enterprises like Zyrobotics, the company Howard co-founded that produces mobile therapy and educational products for children with differing needs.
Additionally, she has been a spokesperson for the importance of ethical research in the field.
"We're at such a critical moment in the development of artificial intelligence," Howard said. "There is incredible possibility, but equally daunting challenges. It's an honor to be recognized for the work we are doing in this field, but it's far from over. My hope is that I can inspire future researchers to pursue impactful and ethical advancements in the field."
Eight others aside from Goel and Howard were also selected to the fellowship program for 2021 and will be recognized at the 2021 AAAI conference, being held virtually Feb. 2-9.