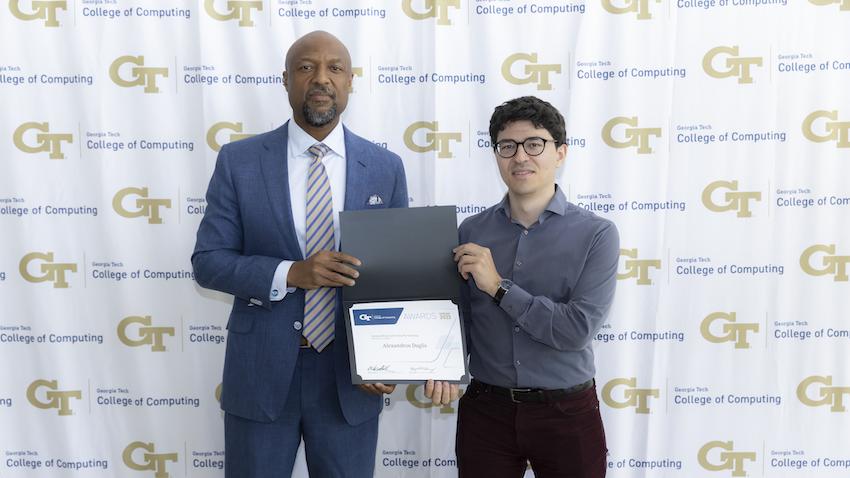 College Awards Exceptional SCS Faculty, Students
Several School of Computer Science (SCS) faculty members were recently honored during the 32nd Annual College of Computing Awards celebration.
Assistant Professor Alex Daglis was awarded the Outstanding Junior Faculty Teaching Award. He was nominated by SCS Professor Kishore Ramachandran.
"Alex is the kind of professor from whom I would like to take a class — caring, compassionate, and a fount of knowledge in his field," Ramachandran said.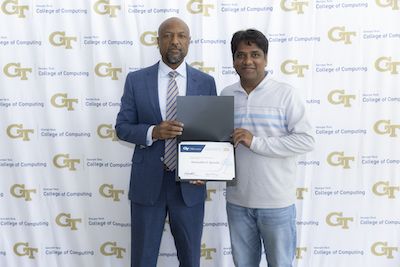 The Outstanding Senior Faculty Research Award went to Professor Moin Qureshi. He was also nominated by Ramachandran.
"Moin is the only computer architect in the college's ranks who has garnered both the ACM and IEEE Fellow awards," said Ramachandran.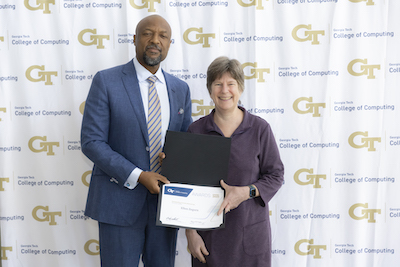 Professor Ellen Zegura was awarded the Outstanding Faculty Mentoring Award.
Her nominator, Associate Professor Josiah Hester, who is jointly appointed to SCS and the School of Interactive Computing, wrote, "Ellen has been mentoring junior and mid-career faculty for decades, and faculty she has mentored have gone on to do great things in research, service, and impact."
Zegura also recently received Georgia Tech's Class of 1934 Distinguished Professor Award.
Several SCS M.S. and Ph.D. students were also honored at the ceremony, including:
Harshit Gupta- 2022 Dissertation Award for Designing Scalable Mechanisms for Geo-distributed Platform Services in The Presence of Client Mobility.
Tanya Garg- The Donald V. Jackson Fellowship. The fellowship supports the master's program and is awarded to well-rounded, first-year computer science majors.
Raj Sanjay Shah- The Marshall D. Williamson Fellowship. The fellowship supports the master's program and is awarded to well-rounded, second-year CS students.
Haoran You- The Outstanding Graduate Research Assistant Award.
Marina Vemmou- The Outstanding Graduating Teaching Assistant Award.
A complete list of this year's College winners can be found here.