Inaugural Conference to Bring Added Value to OMSCS Experience, Network
With more than 8,600 alumni and nearly 11,500 current students spread across the planet, creating a real sense of community is a tough ask for administrators of Georgia Tech's Online Master of Science in Computer Science (OMSCS) program.
Taking this challenge for action, the groundbreaking program is hosting its inaugural OMSCS Conference on May 3-4, as part of its ongoing community-building initiatives for students and alumni.
"It's not just an academic or professional experience," said Ana Rusch, OMSCS associate director for diversity, equity, inclusion, and student life in the College of Computing. "It's community-building. And it showcases the impact our program has had on our students."
In-person registration is closed, but OMSCS students and alumni wishing to participate can still register to attend the conference virtually.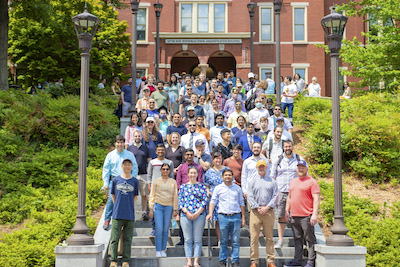 The OMSCS Conference kicks off with a welcome speech by Rusch and Alex Duncan, OMSCS associate director of student experience, who are the conference's co-chairs. Zvi Galil, former College of Computing dean – and a driving force behind the establishment of the OMSCS program – is scheduled to deliver the keynote address.
[RELATED: Surveyed Alumni Nearly Unanimous in Saying OMSCS Program Worth the Investment]
The conference schedule includes a variety of presentations, technical talks, demos, and workshops. Among the many networking opportunities, the conference includes a career fair featuring a small, select group of companies.
"The conference is part of a broader range of initiatives directed at community-building," said Duncan. "We think it's going to be a meaningful in-person annual experience for students and alumni that adds real value to their OMSCS experience, as well as to their OMSCS network."
The conference is taking place in the Marcus Nanotechnology Building at Georgia Tech. Conference organizers are currently seeking volunteers, who would get access to both days of the conference. Volunteers can sign-up using this form.
The inaugural OMSCS Conference is largely funded by a $20,000 Provost's Fund for Excellence in Graduate Studies grant. If you have any questions about the conference, please e-mail the conference organizers at omscs-conf@groups.gatech.edu.