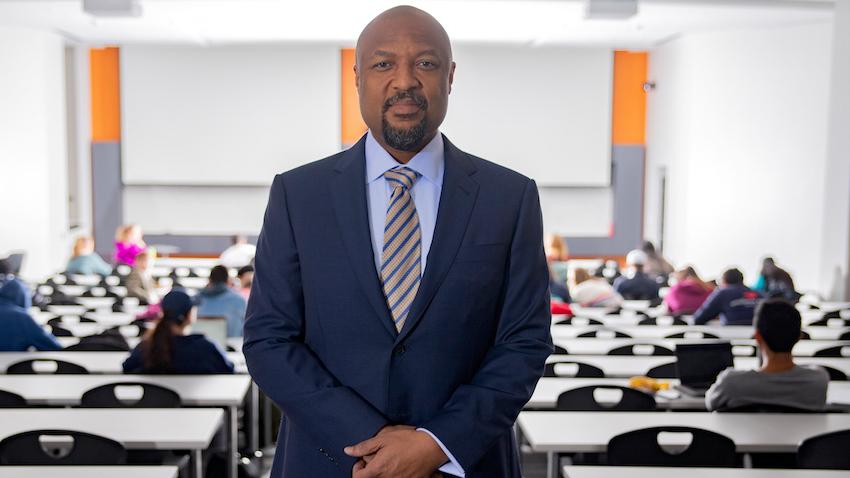 Isbell Begins Term as Dean of Computing
When Charles Isbell applied to college, he applied to only one: the Georgia Institute of Technology.
"I didn't want to go anywhere else," he said. He had grown up in Atlanta, graduating from Mays High School, and he loved the city. More than that, he already knew that he wanted to work with computers, and he knew Georgia Tech was one of the best places in the world to do so.
When he got to campus, he knew right away that he had made a good decision.
"I always felt I belonged at Georgia Tech," Isbell said. "No, I didn't join a frat, I wasn't part of any of the big clubs," he said. "Hey, I went to zero parties. Zero. But I did build friendships. I built connections." He also, in a nice bit of symmetry, served as the undergraduate representative on the committee that hired Peter Freeman to be the first dean of the brand new College of Computing.
Today, Charles Isbell becomes the John P. Imlay Jr. Dean of Computing. He is the fourth person to hold this position. His philosophy as dean is built on the foundation he laid long ago as an undergraduate.
"To me, it's all about community," he said. "I want people to feel like they belong, and that the community reflects their experiences. I want people to feel that the things they're learning apply to their worlds."
Machines Bringing People Together
Isbell went to MIT after graduating from Georgia Tech, and after that spent four years working at AT&T Labs. During that time, he continued to pursue his interests in computing and human connection.
The first project that earned Isbell a "best paper" award was his work on Cobot, a software agent whose goal was to become a functioning member of an online social community called LambdaMOO.
"I'm interested in how humans express themselves in a way that computers can understand – from a technical, machine learning point of view, that is," Isbell said.
He also found new ways to use technology to serve existing real-life communities. At MIT, he built what was most likely the first-ever online Black history database. He ran a website for hip-hop reviews.
To this day, he continues to mix his cultural experience and computing. All of his graduating students pose for photos dressed like members of the funk band Parliament in a silver top-hat, star-shaped sunglasses, and strings of Mardi Gras beads. The framed and funky photos line the walls of his office.
Isbell says that combining his passions keeps him engaged and that he likes to see others do the same.
"If you're passionate, people pick up on that passion," he said.
Giving Back
In 2002, Isbell was hired as a junior faculty member in the College of Computing and moved back to Atlanta.
"First thing that happened when I came back, my mother made me a bowl of cheese grits and bacon," he said. "I knew I was back home."
At the Institute, things were more complicated.
"It was so exciting to be back, but the place was completely different," he said. It was bigger, a stronger program with a ballooning reputation. "Still, I always felt I could build something here."
After earning tenure, Isbell dived into administrative work to do exactly that. He was one of the architects of the college's award-winning Threads curriculum, and also of its groundbreaking Online Master's of Science in Computer Science (OMSCS) program.
"I just kept volunteering," he said. "Then one day I woke up as dean."
Redefining the Field
He didn't, of course. Wake up as dean, that is. Isbell won the job in a grueling nationwide search. He is the first internal candidate ever to be named as the dean of the College of Computing.
And as someone who has been in or around the college for decades, he has a unique view on its development. When Isbell arrived as an undergraduate, computing was still in its infancy at Georgia Tech — it wasn't even a college yet.
Through his tenure on the faculty, he has seen the college grow and mature. Now, he says, the college is truly entering adulthood, a top-10 program with responsibilities not only to its faculty, staff, and students but also to the larger world.
"The technology we develop is transformative, and we have to reckon with that," he said. "We have to accept our responsibility as leaders and our responsibility to bring other people along for this ride."
As dean, he intends to build on the hard work of his predecessors in confronting the challenges of a field that is always changing and always short of labor. And as computing metastasizes into other fields – finance, health, media, politics, art — he sees social and ethical considerations becoming ever more important.
The good news is that the College of Computing is already addressing these problems, Isbell said. OMSCS has diversified and significantly increased the pipeline of trained talent to industry. Our Constellations Center for Equity in Computing is piloting a hybrid classroom-online model that holds the promise of making computer science education available to all children. The college has made ground-breaking commitments to not only teach ethics to the students, but to computing research that prioritizes transparency and the public good.
In other words, Isbell wants Georgia Tech to lead a re-thinking of the nature and importance of community in the field of computing.
"It seems increasingly clear that computer scientists need to think more clearly about the impact of their work on society as a whole," Isbell said. "That's going to require the involvement of everyone who is affected — which is to say, everyone."