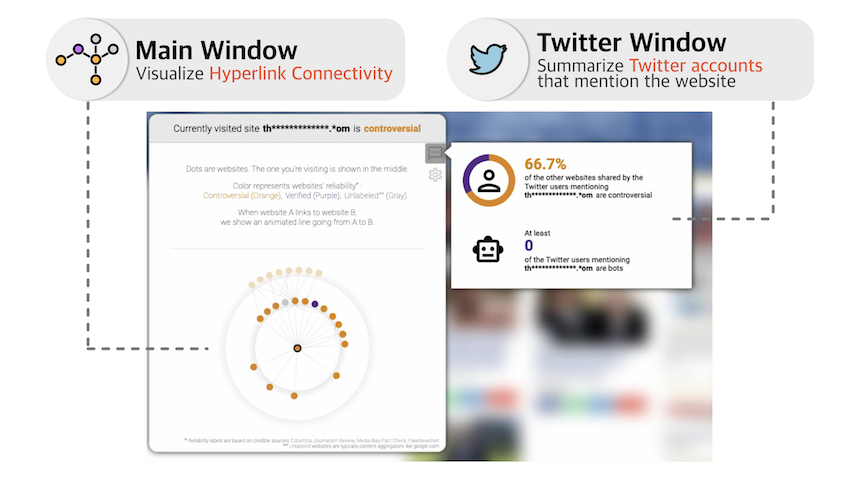 New Tool Makes Misinformation Easier to Identify, Understand and Stop
One problem with misinformation is that most people don't recognize it while browsing the internet. Even fewer understand where misleading content originates, which poses a challenge in stopping misinformation in its tracks.
To resolve this, researchers with the School of Computational Science and Engineering (CSE) and Avast Software have developed MisVis, a tool that can help online users identify and stop the spread of misinformation.
MisVis is an interactive tool that uses data visualization to alert users they are on a website containing misinformation. MisVis also shows how the page is connected in a web with other misinformation sources. As a result, MisVis helps casual and skeptical internet users alike identify misinformation and better understand how content is untrue.
"While working on this project, I found that many people are actually very worried and concerned about misinformation," said School of CSE Ph.D. student Seongmin Lee. "Misinformation is a big issue and visualization is a good way to solve a lot of problems."
MisVis developers joining Lee include:
Sadia Afroz

, Avast Software

Duen Horng (Polo) Chau

, Associate Professor with the School of CSE

Haekyu Park

, School of CSE Ph.D. student

Ankit Peshin

, Avast Software

Vibhor Sehgal

, Avast Software

Omar Shaikh

, Ph.D. student at Stanford University

Zijie (Jay) Wang

, School of CSE Ph.D. student
While many tools, like FactCheck and PolitiFact, exist to help online users discern fact from fiction, they have limits.
One problem is that fact correction sites attempt to explain misinformation through often lengthy written narratives. These can be too long to keep a reader's attention causing them to stop reading. As a result, many are still misinformed because they didn't receive a concise explanation.
MisVis not only alerts users when a website is spreading misinformation, it also shows how the website is connected to other sources of misinformation, including social media. As a result, MisVis shows users multiple sources of misinformation in less time and with less effort than reading a news-like story.
MisVis is intended for all internet users, casual and experienced alike. Lee explained how certain populations, such as teenagers and elderly adults, especially stand to benefit from MisVis as they may be vulnerable to misinformation. These users benefit from MisVis' catchy, easy to read presentation.
The research group introduced MisVis in April 2022 and has been using data and questionnaire surveys to improve the tool. The team will present their updated findings Oct. 19 at IEEE VIS 2022 in Oklahoma City.
In a survey of 139 respondents, participants rated MisVis an average 4.32 out of 5 in usability. Lee explained that most respondents praised the tool's reliability and credibility.
"Users have said MisVis is cool and fun to use," Lee said. "One participant said that it is really easy and convenient, saving them the extra effort of checking other websites and searching on Google."
The research group intends to further develop MisVis into a web browser extension. This will allow for broader usability and provide additional feedback toward improvement. The research group used only Twitter while building and testing MisVis, so expanding application to other social media platforms is another future goal for the group.