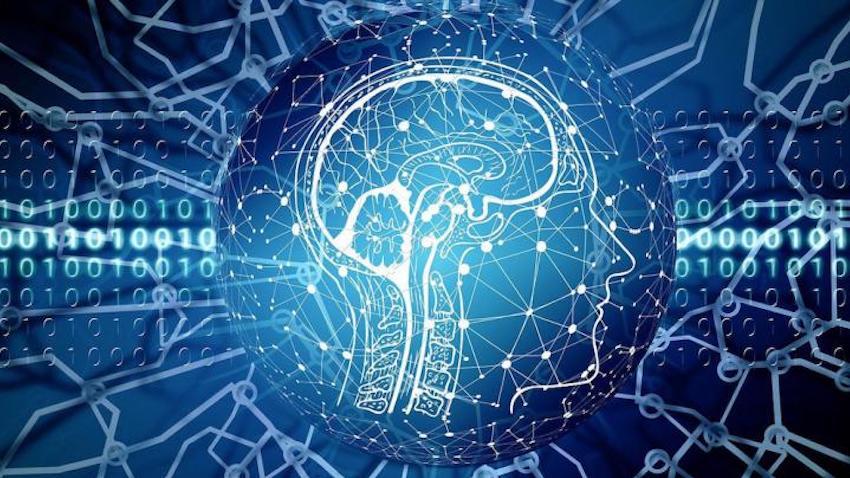 Georgia Tech Research Highlights Premier Artificial Intelligence Conference
Georgia Tech faculty and student researchers will figure prominently into the proceedings of the 35th AAAI Conference on Artificial Intelligence, being held virtually from Feb. 2-9.
Twenty-three members of the Georgia Tech community contributed to 11 papers that will be presented at the conference, while two longtime contributors will join the ranks of the prestigious AAAI Fellows program.
School of Interactive Computing Chair Ayanna Howard and Professor Ashok Goel join College of Computing Dean Charles Isbell (elected in 2019) and Regents' Professor Emerita Janet Kolodner (elected in 1992) are 2021 inductees to the fellowship, giving the Institute four members. The program recognizes individuals who have made significant, sustained contributions to the field of artificial intelligence.
[Related news: IC Professors Howard, Goel Named 2021 AAAI Fellows]
Notable research among the eight papers accepted to AAAI 2021 includes work from a multi-institution team working to understand and improve forecasting models of influenza-like illnesses like Covid-19. Effective forecasting is even more challenging amidst the current pandemic, when counts are affected by various factors such as symptomatic similarities.
The approach in this paper steers historical forecasting models to new scenarios where the flu and Covid-19 co-exist, demonstrating success in adaptation without sacrificing overall performance.
Georgia Tech's Alexander Rodríguez and B. Aditya Prakash are co-authors on the paper, along with Nikhil Muralidhar, Anika Tabassum, and Naren Ramakrishnan of Virginia Tech, and Bijaya Adhikari of the University of Iowa.
[Related news: Research Team Wins Two Covid-19 Challenges in One Week]
Explore Georgia Tech's presence in this visualization and view a list of papers below.
INTERACTIVE VISUALIZATION: Georgia Tech @ AAAI 20201
Image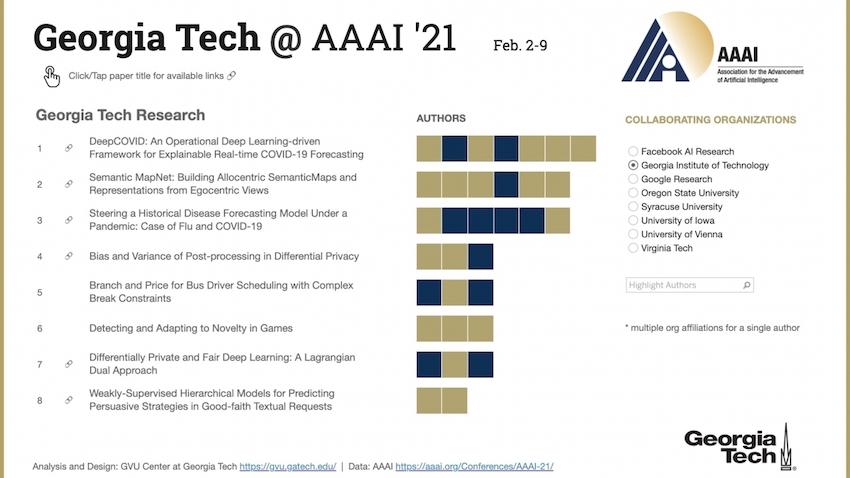 DeepCOVID: An Operational Deep Learning-driven Framework for Explainable Real-time COVID-19 Forecasting (Alexander Rodríguez, Anika Tabassum, Jiaming Cui, Jiajia Xie, Javen Ho, Pulak Agarwal, Bijaya Adhikari, B. Aditya Prakash)
 
Semantic MapNet: Building Alocentric SemanticMaps and Representations from Egocentric Views (Vincent Cartillier, Zhile Ren, Neha Jain, Stefan Lee, Irfan Essa, Dhruv Batra)
 
Steering a Historical Disease Forecasting Model Under a Pandemic: Case of Flu and COVID-19 (Alexander Rodríguez, Nikhil Muralidhar, Bijaya Adhikari, Anika Tabassum, Naren Ramakrishnan, B. Aditya Prakash)
 
Bias and Variance of Post-processing in Differential Privacy (Keyu Zhu, Pascal Van Hentenryck, Ferdinando Fioretto)
 
Branch and Price for Bus Driver Scheduling with Complex Break Constraints (Lucas Kletzander, Nysret Musliu, Pascal Van Hentenryck)
 
Detecting and Adapting to Novelty in Games (Xiangyu Peng, Jonathan Balloch, Mark Riedl)
 
Differentially Private and Fair Deep Learning: A Lagrangian Dual Approach (Cuong Tran, Ferdinando Fioretto, Pascal Van Hentenryck)
 
How to Motivate Your Dragon: Teaching Goal-Driven Agents to Speak and Act in Fantasy Worlds (Prithviraj Ammanabrolu, Jack Urbanek, Margaret Li, Arthur Szlam, Tim Rocktaschel, Jason Weston)
 
Automated Storytelling via Causal, Commonsense Plot Ordering (Prithviraj Ammanabrolu, Wesley Cheung, William Broniec, Mark Riedl)
 
Encoding Human Domain Knowledge to Warm Start Reinforcement Learning (Andrew Silva, Matthew Gombolay)