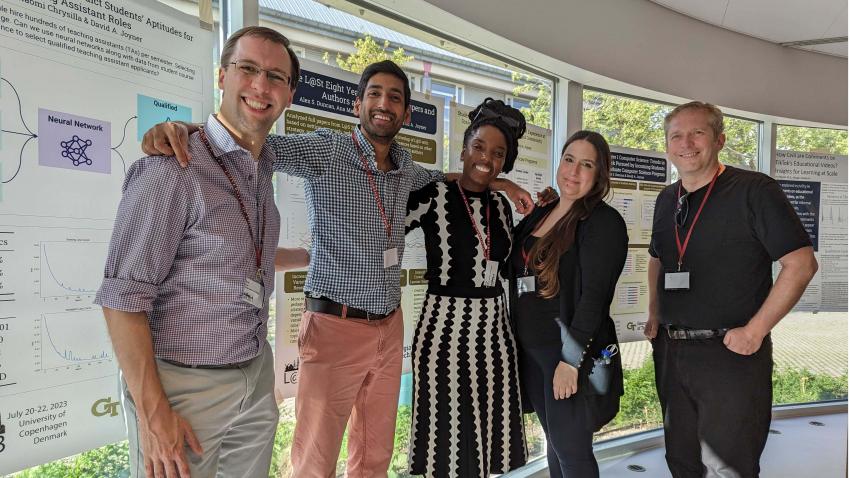 'Not Afraid to Try Something New.' Papers Explore Impact of Teaching and Student Life At-Scale 
College of Computing made a significant impact at the Association for Computing Machinery's 10th annual Learning at Scale conference in Copenhagen, Denmark last week. Eight accepted papers from the College showcased research and strategies for teaching large online classes.  
College of Computing's David Joyner, Ana Rusch, and Alex Duncan presented papers about the impact online education has on traditional instruction and ways to humanize the student experience in large-scale learning environments.  
How teaching online impacts traditional instruction 
The team, in conjunction with Computing students Jolanta Wojcik and Diana Popescu, surveyed faculty members about their online teaching experiences. The general perspective from faculty is that teaching online and at scale—in addition to offering its own benefits—improved their in-person experience. 
For example, once online materials are produced, they are available for the in-person or small-scale class. Instructors also remember the lessons learned through the process as they return to more traditional settings. 
David Joyner, Online Master of Science in Computer Science (OMSCS) executive director, explains that the study provides more systematic evidence for a phenomenon they have observed anecdotally for years.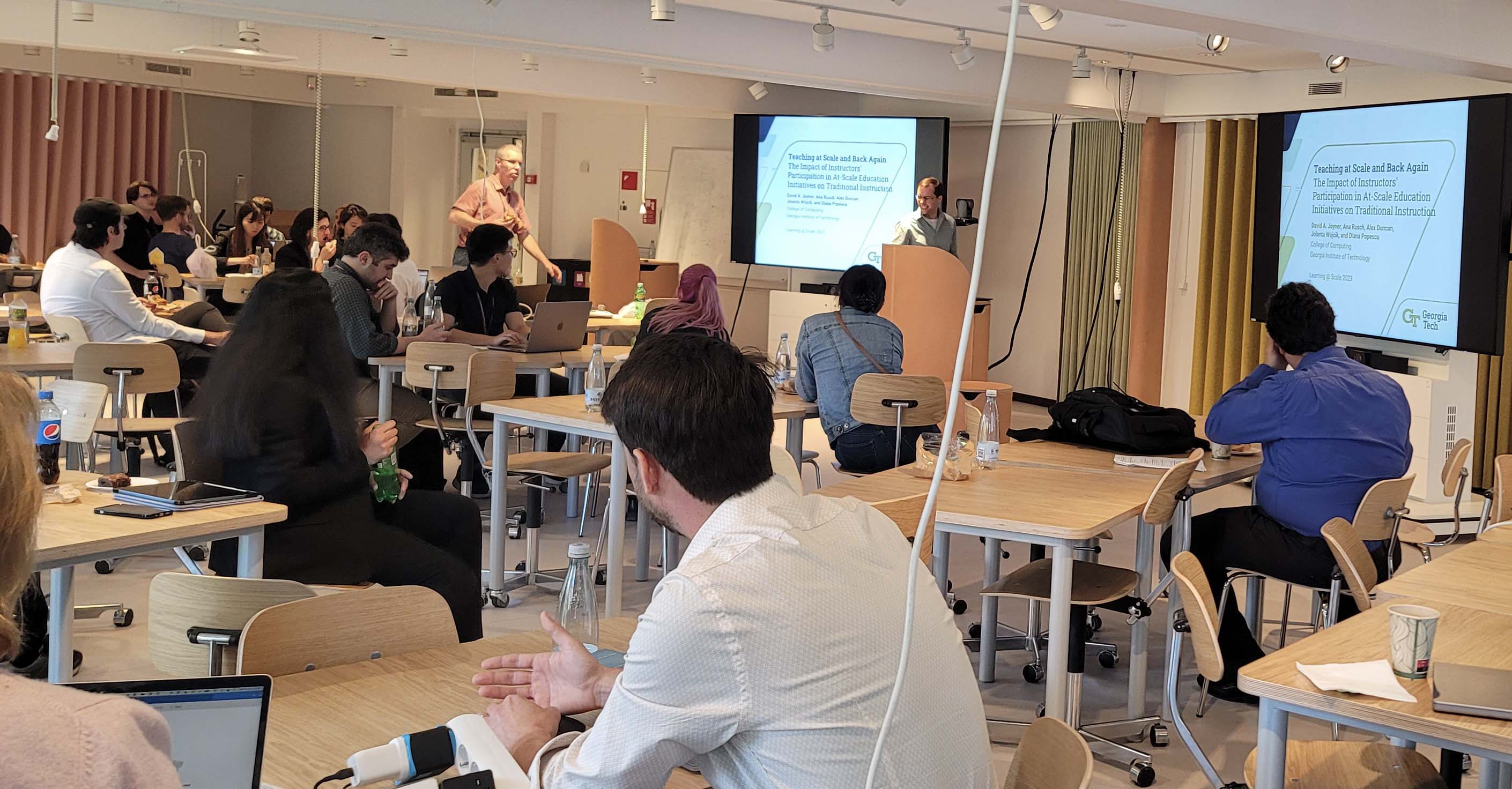 "Since the beginning, we've heard faculty say that teaching online really improved how they teach in person because it forced them to examine their course content and assessments along with an expert in instructional design," Joyner said. "But we never knew if that feeling was common or if it just came out in the people we talked to. Now we know those feelings are pretty universal." 
Creating community and student life at scale 
Ana Rusch, Online Master of Science in Computer Science (OMSCS) Associate Director of Diversity, Inclusion, Equity and Student Life, Associate Director of Student Experience Alex Duncan, and Joyner also presented about ways they have made the large-scale online program more engaging and community-oriented. They discovered that students sign up for an online program because it's online and asynchronous, but then many want a synchronous component. Joyner calls this the "synchronicity paradox". 
Rusch presented on 10 student life initiatives aimed at fostering community in OMSCS. These include seminars, local meet-up groups, online spaces for resources and communication, a newsletter, campus tour, coffee hours, and a program conference among others.  
People are often shocked that the online program at Georgia Tech has student life and that incorporating it is inexpensive, Rusch explained. 
Students have been very receptive to the initiatives. For example, the inaugural OMSCS conference brought students from all over the world. 
"For anything that happens on campus, I'm a strong believer that we can do it online and we can do it even better because it's accessible, it's inclusive, and it's flexible," Rusch said. "One of the amazing things about Georgia Tech and OMSCS is that we're not afraid to try something new." 
Contributions of Georgia Tech Students 
In addition to papers by Georgia Tech faculty members, several students also contributed to the conference's proceedings.
Grace Chrysilla and Dilek Manzak, both current OMSCS students, worked on projects as part of independent CS8903 special problems classes in fall 2022. Manzak's work focused on patterns of responses to a start-of-course survey and predicted students were more likely to withdraw from a class. She found, counter-intuitively, that students with greater prior educational attainment are more likely to withdraw than students whose highest prior education is a bachelor's degree. She also found that planning to spend fewer than 7 hours per week working on a class is a strong predictor that a student will likely withdraw. 
Chrysilla's work looked at evaluating candidates for teaching assistant (TA) positions based on applicants' performance on TA-like duties while they are enrolled as students in the class. She found that by looking at students' engagement on course forums and in peer review activities, she could automatically identify good candidates for TA roles. 
Finally, OMSCS alumni Saurabh Chatterjee and Rocko Graziano contributed to the paper "Cheating Detection in Online Take-Home Exams", while OMSCS alumnus Andrew Hornback was the lead author on "A Scalable Architecture for Conducting A/B Experiments in Educational Settings". 
All accepted papers from College of Computing faculty include:  
Teaching at Scale and Back Again: The Impact of Instructors' Participation in At-Scale Education Initiatives on Traditional Instruction

 
David Joyner, Ana Rusch, Alex Duncan, Jolanta Wojcik, Diana Popescu 
Student Life at Scale: Humanizing the Student Experience at Scale through Belonging, Engagement, and Community

 
Ana Rusch, Alex Duncan, David Joyner 
Utilitizing

Neural Networks to Predict Students Aptitudes for Teaching Assistant Roles

 
Grace Chrysilla, David Joyner 
Pre-Semester Predictors of Course Retention in a Large Online Graduate CS Program

 
Dilek Manzak, David Joyner 
The

L@st

Eight Years: A Review of Papers and Authors at Learning @ Scale

 
Alex Duncan, Ana Rusch, Prerna Ravi, David Joyner 
Ready or Not, Here I Computer Science: Trends in Preparatory Work Pursued by Incoming Students in an Online Graduate Computer Science Program

 
Alex Duncan, David Joyner 
Managing the Chaos: Approaches to Navigating Discussion Forums for Instructional Staff

 
India Irish, Saurabh Chatterjee, Sheliza Jivani, Xiangyu Jia ,Jeonghyun Lee, Rosa Arriaga,  Thad Starner 
Examinator v3.0: Cheating Detection in Online Take-Home Exams

 
India Irish, Saurabh Chatterjee, Sheliza Jivani, Xiangyu Jia ,Jeonghyun Lee, Rosa Arriaga, Thad Starner 
Accepted papers can be found here.