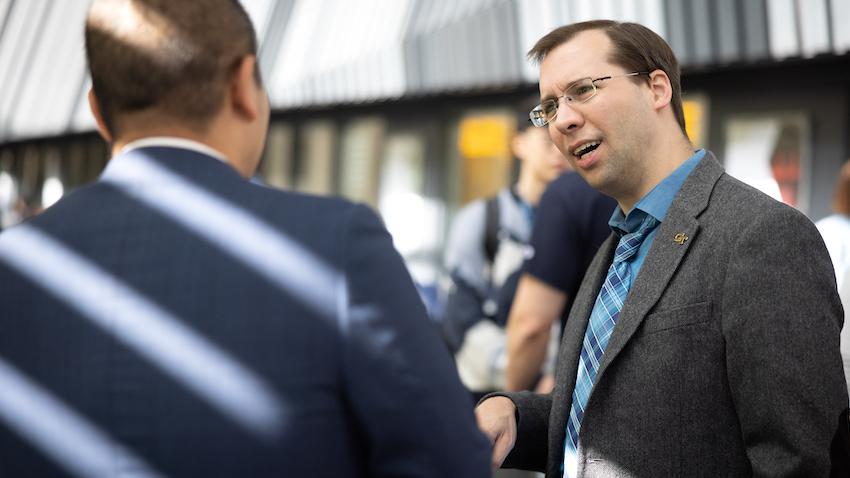 OMSCS Executive Director Recognized for Building Access to Computing Education
David Joyner has been named as the inaugural holder of the Zvi Galil PEACE Chair. Joyner is executive director of OMSCS and Online Education for the College of Computing.
The chair is named in honor of former Dean of Computing Zvi Galil. It honors a faculty member whose work substantially contributes to building access to computing to people of color, women, and other students from underserved communities.
The Galil Pervasive Equitable Access for Computing Education (PEACE) Chair is a tribute to Galil's legacy and a challenge to create increasingly diverse and equitable approaches to CS education.
[RELATED: New Endowed Chair Honors Inclusion and Diversity]
OMSCS certainly fits that bill. Student enrollment in the Online Master of Science in Computer Science program is 11.6 percent underrepresented minorities. By way of comparison, only 4.1 percent of the students in the on-campus master's student programs are underrepresented minorities.
"David Joyner has contributed significantly to the success of OMSCS," said Galil. "He has been teaching four courses per semester, two of which he created, all of which receive excellent teaching evaluations. And that's in addition to running the program!"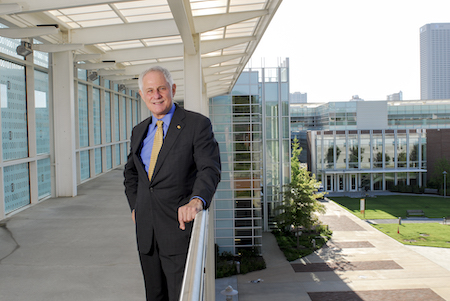 The Zvi Galil PEACE Chair recognizes not just David Joyner specifically but also a more significant commitment in the College to expanding access to computing education.
That access matters for two reasons. The first is simple numbers: there are more than a million unfilled computing jobs in the U.S. Without underrepresented groups, there will never be enough computer scientists to fill them.
The second is that underrepresented minorities deserve the same access to the computing boom as other populations. According to the McKinsey Institute, the employment gap will cause Black households to miss out on a cumulative $350 million in tech-job wages by 2030.
Focusing on access has also allowed the College of Computing and Georgia Tech to improve related practices and systems.
"It's always remarkable to me is that the steps we take to expand access have so many additional benefits," Joyner said. "It makes our teaching better, lets us invest in more sophisticated tools and platforms, and allows us to drive down the cost of education. It's this beautiful cycle: expanding access means more students, which leads to greater economies of scale, which leads to lower costs, which expands access even further.
OMSCS has even led to a further expansion of the College's online offerings.
"In 2017, David created, and has since been teaching, GT's first online undergraduate course," said former Dean Zvi Galil. The course – Introduction to Computing Using Python – is deemed the highest-rated course taken by about half the students in the course. I heartily congratulate David as the first incumbent of the Zvi Galil PEACE Chair."