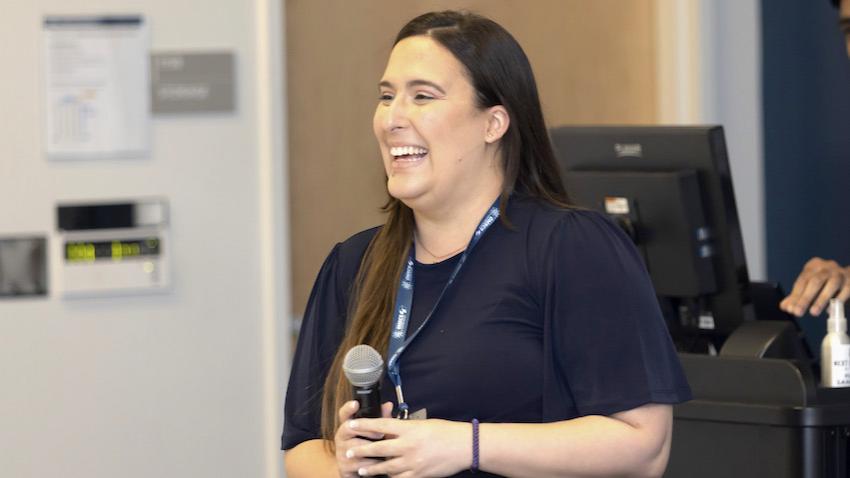 'Diversity Champion' Credits Passion for DEI to Her Family's Immigrant Experience
Diversity, equity, and inclusion (DEI) is much more than a job for Ana Rusch. It's who she is.
Rusch is Associate Director of DEI and Student Life in the College of Computing. She was recognized recently as a Diversity Champion at Georgia Tech's 11th Annual Diversity Champion Awards.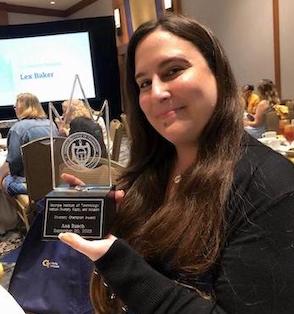 "It is an honor and a privilege to receive this award. As a first-generation Cuban immigrant, first-generation college graduate, and as a woman, this award is very personal to me," said Rusch. "Being nominated by my colleagues for this award makes me, as a Latina, feel incredibly supported and celebrated."
Rusch grew up in Miami with her mom and maternal grandparents. She recalls being passionate about DEI before really understanding what it meant. She credits this to her family, who always taught her to value and respect every person as an individual.
"My journey allowed me to feel a deep sense of empathy for others that strengthened the example my family set for me growing up," said Rusch.
The disadvantaged position she and her family were in as immigrants in the U.S. also fueled her passion. Like most when they first arrived, the family lacked institutional knowledge, social capital, and generational wealth.
"How can you not support DEI when you have experienced what it means not to have it in your life," said Rusch. "Diversity, equity, and inclusion inspires achievement, drives excellence, and motivates innovation. When we champion DEI, we champion greatness and the ability to improve the world."
With her passion for DEI shining brightly, Rusch began her quest to improve the world at Florida International University (FIU). She earned a bachelor's degree in international relations with second majors in political science and geography, a master's degree in geography, and a Ph.D. in sociology, all from FIU.
Image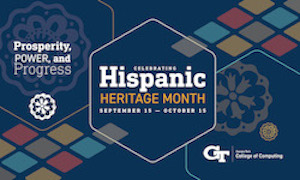 Her experience at FIU deeply impacted Rusch. The faculty she met, the courses she took, and the books she read changed her. Her view of the world began to change as well.
"All of the things I was introduced to really painted the world in brighter colors and allowed me to see DEI through different lenses, which fully developed my passion," said Rusch. 
After earning her Ph.D. in 2018, Rusch joined the College of Computing in 2021. She primarily supports the College's Online Master of Science in Computer Science (OMSCS) program. As associate director of DEI and student life, Rusch helped create the OMSCS Women in Tech Seminar and OMSCS Welcome Week.
"My goal is to ensure that all of our students feel cared for, heard, seen, and respected," said Rusch. "For me, this is a basic human right."
Beyond the OMSCS program, Rusch has a broader goal of recruiting and retaining Hispanic, Latina, and other diverse students in computing and other STEM fields. She says only about 2% of workers in computing were Hispanic or Latina in 2022.
"This tells us something. We need to introduce STEM fields to young Hispanics and Latinas from an early age, grow equitable access to these fields, increase representation, and fund more educational opportunities," said Rusch.
"I have to give a huge shout-out to Georgia Tech, the College of Computing, and OMSCS for their commitment to increasing and retaining diverse students, faculty, and staff."